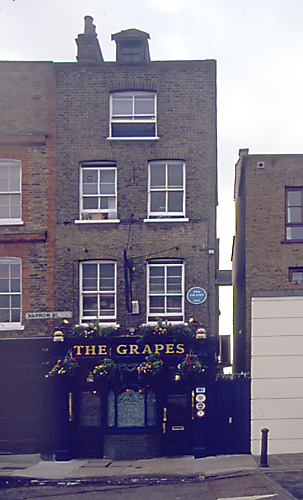 We had such a good night yesterday. There were basically ten of us going for Chinese hot pot dinner around 8ish in the evening. The mood was happy and uplifted. We were loud and laughed a lot and were just on a good, happy, friendly mood all of us. We hopped on a DLR from Heron Quay and drove all the way to All Saints. Yeah, I know, but Ed who lives nearby had found this good Chinese restaurant so we decided to give it a go. And it proved to be good. Of course it wasn't anything like the hot pot place we had in Leeds, but that's alright.
We stayed at the restaurant about two or two and a half hours before heading to this small yet very traditionally cosy, dark, little 17th century Dickensian pub called The Grapes in Limehouse. The reason why we went to this particular pub was because it is owned by Sir Ian McKellen's (Gandalf from the Lord of the Rings actor) and partly because it was conveniently on the way. Personally I am definitely not a big Lord of the Rings or Tolken fan at all, but it was fun. Too bad we got to the pub so late that we only had time to sit down for a half an hour and were pushed to leave before we were able to finish our drinks completely. However, that was alright too. Then we walked along the Thames Path back home and it was lovely –as per usual.
At home we had more drinks and cake. Bad jokes, funny conversations and loads of laughing out loud. It is just so lovely to spend time with people who are all in the same level. I feel extremely lucky and blessed (yes this is very American) to have such a wonderful group of people as my friends. Not just in England, but in Finland too. I truly appreciate every single person's presence in my life. I believe that they are all there for a reason, which makes me even more attached to all of them.
So at the end of night we had three people staying over. We inflated a double airbed in the living room and made another bed by using sofa cushions in Matt and Ken's bedroom. I do have to say that I just love this kind of feeling when people are together because everyone comes along so well. I missed this feeling so much whilst I was living on my own in Helsinki. I think living with people suits me better than living alone.