It has been quite nice weahter today. The morning was especially nice since it was so sunny and warm. As sunny mornings set you on a good mood so easily I decided that today would be a good sunny day all day along, whether the sun would stay out or not.
San Pellegrino
is a brand I like a lot. It is an old Italian alcohol and non-alcohol drink producer, which was established in late 19th century -1899 to be precise when it also became listed on the Milan Stock Exchange. It is said to be the first bottled water brand and origintates from the San Pellegrino village in Northern of Italy.
S.Pellegrino is probably best known for its mineral waters and fruit juice beverages all around the world, regardless whether we are taking about Milan, Shanghai or New York. In 1949 Sanpellegrino celebrated its 50th Anniversairy by launching its sparkling fruit beverages range which incuded Aranciata Amara, Limonata, Chinotto and others. In 1954, the company purchased Acqua Panna and in 1999 Sanpellegrino Company celebrated its first 100 Years.
At the turn of the 21st century, S.Pellegrino has diversified into introducing more events to its core strategy. Occations such as S.Pellegrino Cooking cup and S.Pellegrino World's 50 Best Restaurant Awards became quickly embrased as the means to share and celebrate the Italian art of living.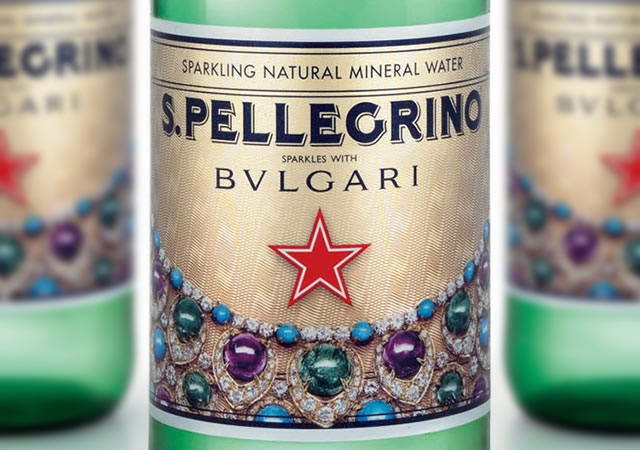 The latest S.Pellegrino & Bvlgari partnership "S.Pellegrino sparkles with Bvlgari"